Types of Designer Sarees That Are Loved by MOMS
Moms of this age seem to be going berserk over a wide range of designer sarees which are now available in a variety of flamboyant colors and designs. The thing so unique about these sarees if the special touch of artwork that designers give them using their professional expertise. You can choose the colour according to your age. If you are a young mom you can go for flashy colours and team it up with a designer blouse. If you are in your mid or late 40s you can go for sober and calm colours which will compliment your personality.
Designer sarees that all moms love irrespective of their ages.
These days there is a wide range of designer sarees available in the market and on online shopping portals which will make you go crazy with their attractive designs and colours. Young moms and middle-aged moms too love to deck up in these designer wears which adds on to their persona and grace. Bollywood actresses and celebrities have created and haven taken forward this latest trend of wearing designer sarees which are a bit expensive because of its authentic quality but will add an exuberance to your charm and your wardrobe.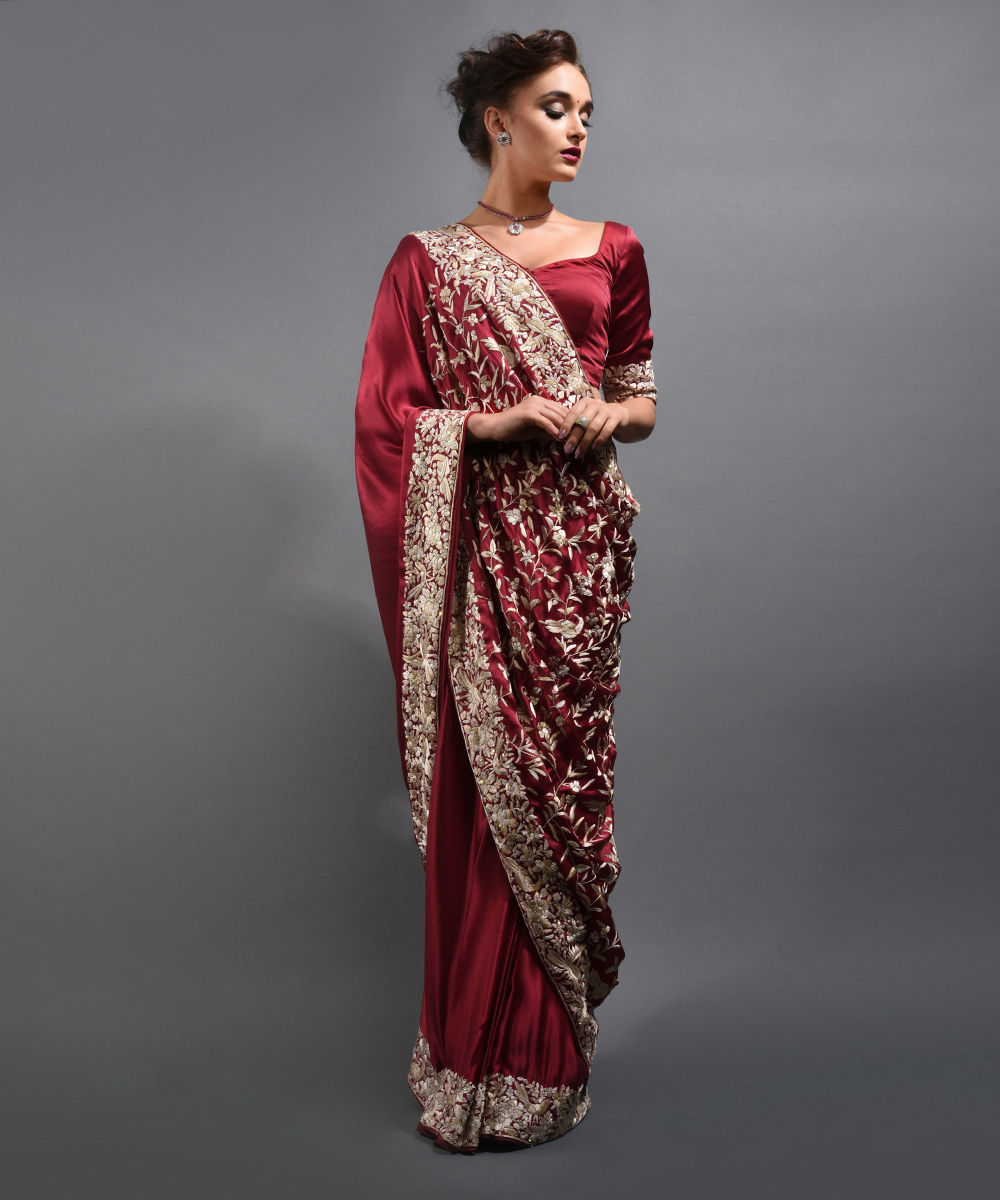 Designer sarees contain heavy work such as embroidery, gota, zari, stone, resham and a lot more on their bodies. These exquisite works attract women of all ages alike.
Designer sarees are mostly purchased for attending grand and lavish events like wedding, anniversary, engagements or other special occasions and parties. Designer sarees coupled with a beautifully designed designer blouse compliment the whole look perfectly and can make moms of all age look ravishing. These days' designer sarees are also being worn by brides. Shedding the trend of wearing traditional benarasisarees on the wedding day and the engagement day brides are going for designer wears. As a mom of the bride, you can also choose your favorite designer saree to compliment your daughter on her big day.
The fabric of a designer saree is of a rich quality and hence it is a bit more expensive than normal sarees. Designer sarees use the following different types of artwork which enhances its appeal and glamour:
Beads
Sequins
Stones
Shimmer
Zari
Applique Work
Crystals
Resham
Cord Work
Cut Work
Moti
Patch Work
Pita Work
It uses fabrics of the following category:
Net
Faux Georgette
Faux Chiffon
Art Silk
Lycra
Faux Crepe
Polyester
Viscose
A lot of designer professionals these days are coming up with their own brands and craftsmanship to exclusively design immaculate artistry on sarees which are defined as designer sarees. If you are a young mom you can go for bright colours and heavy patch work like this one:
However, if you wish to keep it mild you can go for serene colours like this one:
However, if you wish to go for mild colours with exuberant patchwork you can go for something like this:
These days' moms also love to experiment with lehenga sarees that come under the genre of designer wear. It has the same amount of design work as other designer sarees but adds on to your trendy quotient due to its unique style. Have a look:
If you are about to attend any grand event and don't want to miss the chance of slaying with the looks you should definitely try designer sarees. They not only make you look glamorous but also helps you to maintain your graceful posture. If you can team up your designer saree with a perfect pair of matching or contrasting designer blouse you are sure to make heads turn.