LATEST AND TRENDY MEHENDI DESIGNS – AN OVERVIEW
Wearing mehendi on hands is one of the oldest Indian traditions. Girls have warm affection toward wearing mehendi and it is considered as auspicious ritual. Traditionally the pattern of wearing mehendi started with simple circular solid rounds on palms and solid finger tips. Later, with time, several patterns and designs evolved thereby complimenting both traditional and contemporary designs. Fusion styles are also gaining rapid importance along with traditional ones.
From age old Hindu religious customs to traditional representation in Indian weddings, mehendi has just been the center of attraction for all Indian functions and occasions.The ritual of making designs using mehendi or henna powder paste originated from Arabia. Using mehendi paste, Indian girls use to make designs and motifs on their hands and feet. It is an extensive part of Indian wedding ceremonies where a separate mehendi function is held prior to the wedding function. The bride and her friends and family indulge themselves in enjoying this day by decorating their hands and feet. The designs and pattern of mehendi art vary with the occasion. Here's a list of some of the popular mehendi designs for the wedding season: –
1. Bridal Mehendi Design
Bridal Mehendi designs are completely different from general patterns of mehendi. Since it is purely meant for the bride on her special day, it is exclusively designed with heavy and traditional Indian patterns of work. The bride usually prefers to wear this type of bridal mehendi on her full hands and feet.
2. Paisley Print


This is a traditional form of mehendi pattern with paisleys all over the palm ranging from small patterns to delicate ones. The intricate curvy patterns and smooth strokes together make up a complete pattern of classic design.
3. Floral Pattern

This is an unbiased champion that creates a fabulous look on both hands. Flowers are considered to be the easiest of all the designs. Small leaves, petals and branches together cause a wonderful mixture of art and design.
4. Royal Architecture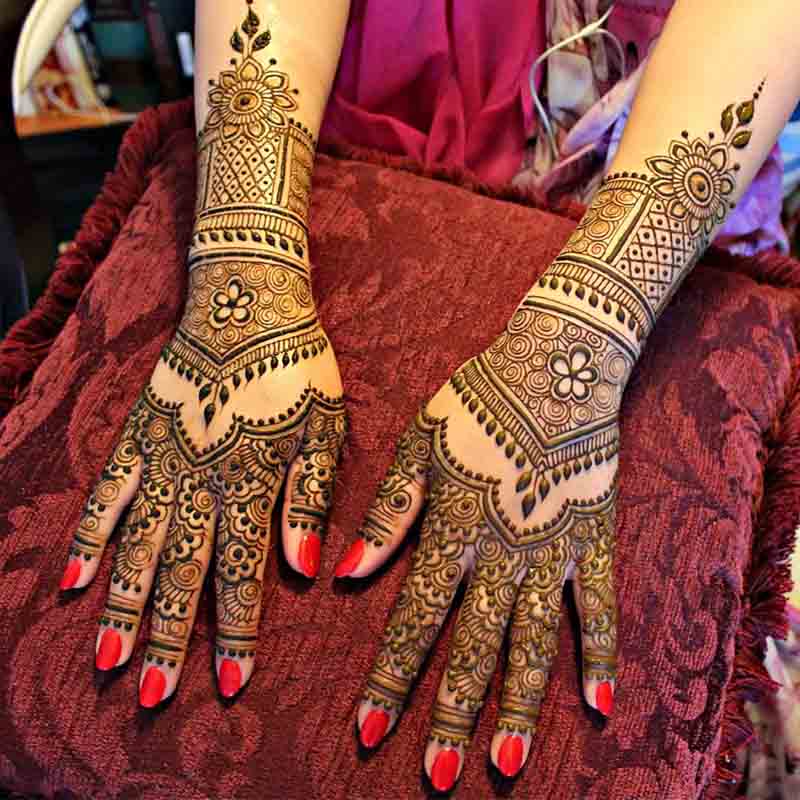 This mainly signifies the designs prevalent in the Mughal period. Royal palaces, pillars and structures form the main ingredient of this design.
5. Elephant Motif
Traditionally originated from Rajasthan, this is most popular in the western parts of India. Elephant design is very decorative and dense in nature.
6. King and Queen Pattern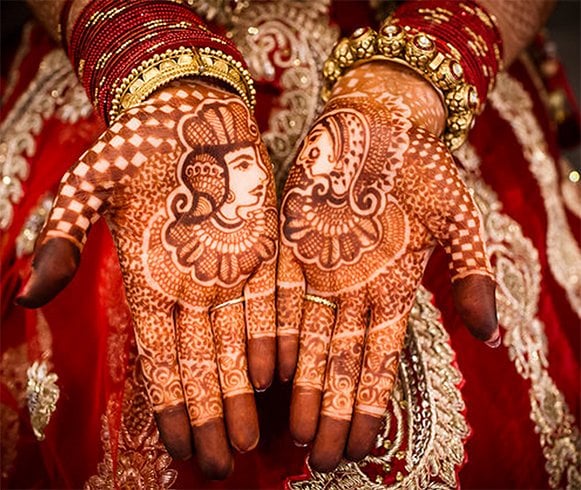 It is a very familiar pattern used for bridal mehendi designs. One hand is decorated with the king pattern and the other hand with queen motif.
7. Swirl Design
This design is drawn on every finger. A gap is left between the fingers and the palm.The designs on the fingers are delicate yet curvy.
8. Peacock Pattern Design
The peacock design is completed by extending the motif of its body and feathers to the palms and fingers. It is a delicate form of ornamentation in mehendi art.
9. Colored Pattern
This is a mix and match of typical mehendi paste and color pastes to match up a series of design.
10. Curvy Floral Design
This is a combination of flowers and curves thus forming a beautiful pattern of design for every occasion.
11. Crafted Cuff Pattern
This design emphasizes on delicate designs on the wrists thus forming the look of a handcuff. Geometric cuffs are widely used patterns in every Indian occasion.
12. Twisted Pattern
It is kind of an inverted pattern that starts from the fingers so that the end draws attention of the spectators. This pattern is extremely eye catching and trendy.
13. Asymmetrical Pattern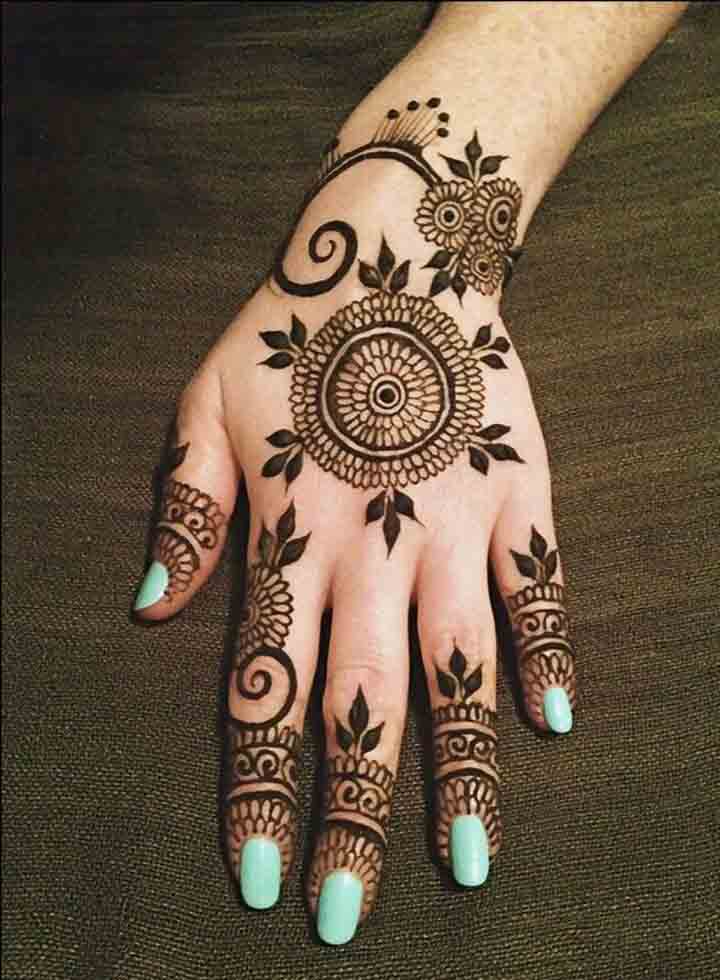 This is completely different from symmetric designs and is a mix and match of various patterns.
14. Blank Fingertips Design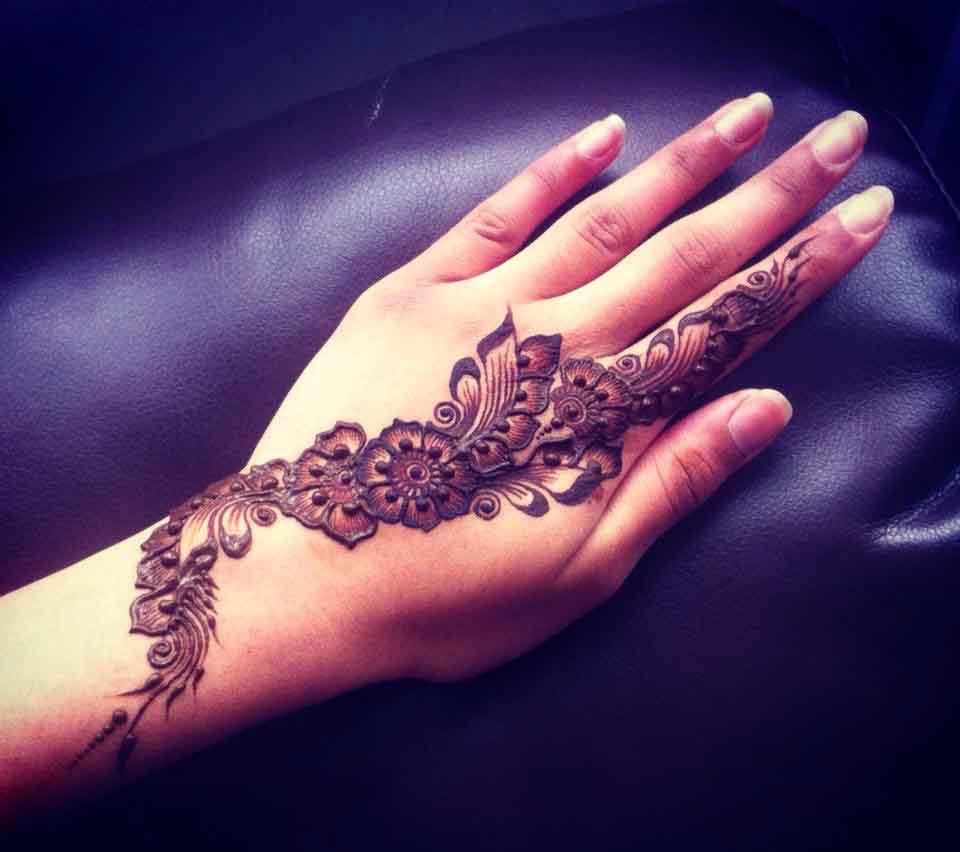 The design is mainly done with the palms and outer portion of the hands while leaving the finger tips blank.
15. Lacy Design
This is the most recent forms of bridal mehendi where there is no core theme but floral or asymmetrical designs are drawn mainly on the wrists thus giving a delicate look.
Several mehendi booklets are sold in the market for various types of designs. One can even go online for choosing the best mehendi designs for wedding. Mehendi still continues to grab everyone's attention in every occasion and is an all time favorite of all girls out there.
And at last you must know the techniques to learn mehendi designs, which would helpful to make you master in mehendi designs.