Awesome Designer Sarees for the Wedding Party
The following blog guides the new brides about how to dress themselves up in their wedding day. On different occasions, different types of sarees can be worn to enhance their beauty. The sarees can also be draped in various patterns so as to bring in more creativity. One can pair the sarees with heavy or light ornaments depending upon the occasion.
Weddings are an important part of a bride's life. Weddings can be a great time to flaunt and have fun with the people around. Women on this day do their best to look the most attractive in their traditional attire. There are various kinds of designer sarees for a wedding party. Following is the list of sarees that can be worn in an Indian wedding:
Kanjeevaram
These are one of the most renowned sarees of South India. Kanjeevarams are the traditional silk sarees which have their origin from Tamil Nadu. These are very popular among South Indian weddings. These sarees generally has a shining border which looks extremely attractive. These are said to be a canvas for the skilled saree artist. Kanjeevarams are considered to be an ideal choice for weddings especially south Indian wedding occasions.
Banarasi
Banarasi has its origin in the city of Varanasi. These sarees have a different charm of their own and glorify the beauty of the bride. The golden border gives an elegant and noble look to the bride. You will be a center of attraction. These are one of the most popular choices among the designer sarees for wedding party. Bright colored banarasi sarees look extremely gorgeous and one can become the center of attraction on the wedding day. Benarasi sarees are mostly worn in Bengali wedding occasions.
Odisha handloom sarees
There are innumerable varieties of sarees which Odisha handloom offers. These sarees are gorgeous as well extremely comfortable to carry. They have an eye catchy appearance. These sarees come in cotton as well as silk fabric. The bride can pair up this saree with heavy ornaments or can experiment with her look in a different way.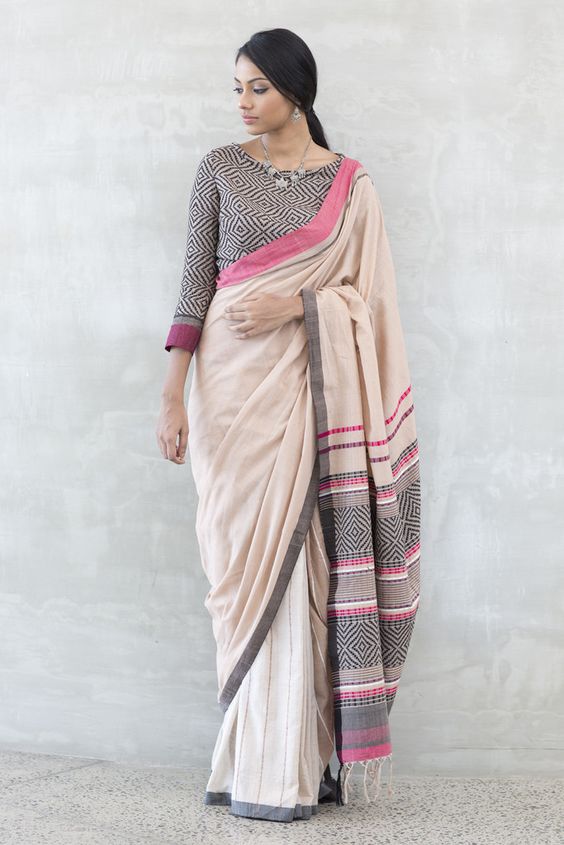 Paithani sarees
These sarees give a royal look to the bride. Paithani sarees are a perfect choice for such brides who want get a different yet royal outlook on her wedding day. These sarees mostly come with peacock designs at the borders and pallu and decorated with zari embellishments all over the cloth. They can turn the bride into an ethereal princess. These sarees are generally expensive but if one can afford them, they are worth the price.
Tussar silk
Tussar sarees are made from the silkworm. They look extremely gorgeous yet are light weighted and comfortable to carry. They generally come in neutral shades and available in multiple numbers of colors. They have their own charm and give an ethereal look to the bride on the wedding occasion.
Nowadays, people not only dress up for their wedding occasions but also for their pre-wedding occasion. There is a lot of pomp and show in the pre-wedding occasions as well. These are one of the most memorable moments in the entire wedding occasion. Different sarees can be selected for sangeet, haldi, Mehendi, etc.
Brides generally prefer to wear lightweight sarees on these days. For example; a lightweight yellow saree with floral embellishments can be worn on the haldi ceremony while a sober yet dark colored saree can be worn for the Mehendi or the cocktail party. Brides need to balance their outlook through all the festivities of the wedding occasion as to look the best and become the center of attraction. It would also show her dressing sense.